Membership - How to join Coast and Mountain Walkers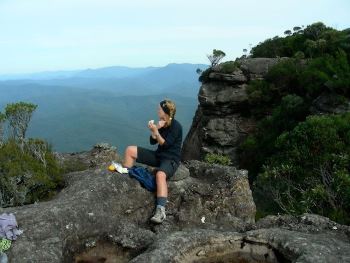 Requirements for membership
To become a member of our walking club, you need to join as a Prospective Member and from there, qualify as a full member. To do this, please complete the on-line Application for Membership. Membership is open to persons aged 18 and over.

There is no fee payable at this stage and you have 12 months to qualify. You'll receive digital copies of the club's magazine "Into The Blue" and Walks Program links by email (as new trips are added or existing trips changed). You will also have access to the Social Program on our website.
If you are new to walking, you might find the information in this link encouraging.
To qualify as a full member
Coast and Mountain Walkers specializes in overnight and multi-day walks. To qualify as a full member, you need to complete two overnight walks (shown with a "Q" in the walks program) and one day walk (shown with a "q" in the walks program) or three "Q" walks in the twelve months.
A Walks Leader will provide more detailed information when you contact him/her regarding joining a walk.
Full members pay an annual subscription in June of each year.
There is an annual membership fee for individuals and families, members receive four issues of the Clubs' magazine "Into the Blue".
Membership enquiries and information
* Email:- enquiry@cmw.asn.au Email enquiries are welcome. The Membership Secretary will call you back if you would prefer to discuss by phone (please provide contact details).
* Visit:- You are welcome to attend the monthly Club meeting which are held at Burwood RSL. Have dinner at 6:30pm with Club Members and then attend the meeting at 7:30pm upstairs in a Conference Room. Burwood RSL is close to Burwood Railway Station and has a large car park. See Google Map
Note: Monthly Club meetings are currently on hold during Covid-19 restrictions. Watch this space for notification of re-opening.
* Write:- For other queries, please write to CMW Secretary, C/- Drew Stones, 29 Pritchard St, MARRICKVILLE, NSW 2204
Click on link below for:

CMW Guide to Bushwalking
The club has put together a CMW Guide To Bushwalking with information on how to join a walk, what to take, suggestions on food that will keep you sustained, etiquette in the bush, map and compass use, together with a checklist of gear to take on a typical walk.

People new to overnight walking will find the guide particularly useful, and will hopefully answer many of your questions.